How White is Your House? The Post I Shouldn't Write
The Great Solar Eclipse of 2017 was the greatest thing to happen to white people since Full House got a Netflix reboot. For 48 hours, we got to pretend that our country wasn't a big jigsaw puzzle with all the pieces strewn about. News stories about civil unrest, white supremacy, and confederate statues were buried under sweet pics of kids holding cereal box viewing contraptions and dogs wearing eclipse glasses. For the first time in two weeks we got to focus on the positive instead of everything wrong with our country.
Unless, that is, you are directly impacted by everything wrong in our country. For many Americans, the eclipse was not a welcome distraction; it was one more thing that threatened to sweep major racial issues under the rug until the next event, the next shooting, the next protest.
Now, I'm about as white as can be. My clothes are all from Kohls. I watch The Bachelor. I wear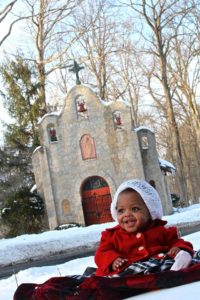 Sperry's although I don't sail. I drink LaCroix and then wondered where I went wrong in life. I'm also naïve and ignorant to a lot what has occurred and what is occurring in our country. But I know my daughter and I can't turn a blind eye anymore, for her sake.
Four years ago, we adopted a little girl. We were open to any race, believing that skin color doesn't matter/we all bleed red/there is one race…human/love sees no color. Boy, were we wrong. This little girl, with her birthmother's rich brown skin and her birthfather's chocolate eyes, was born with a physical beauty far different than my own. She has an unknown ancestry that I would give anything to know. She has wild and wonderful hair that is so foreign to my fat, European fingers that never even grasped French braiding in middle school. She is different than her white parents and her white brothers. She is set apart. We weren't the only ones to notice either.
For the first year, everything was great. However, when she was 15 months old, we moved to a town in Colorado to plant a church. A town that was less than 1% African American. The only other black children in my neighborhood were also adopted transracially. Any time we saw a black person, one of my children would embarrassingly shout, "there's someone that looks like Corynn!"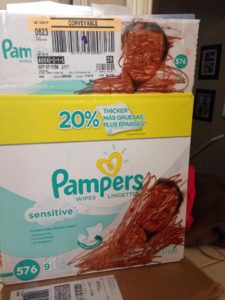 We noticed things in our world…white things.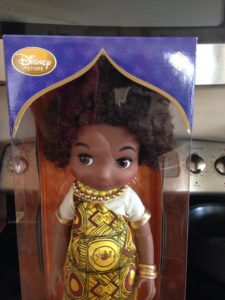 The target baby doll aisle had all white baby dolls. My daughter's first dolls were a Princess Tiana doll and an It's A Small World Kenya doll from the Disney Store because they were the only ones that resembled her. There were very few hair care products for black girls at the stores. The main characters on all our favorite tv shows and movies were all white.
One day I found a Pampers diaper box and my five-year-old son had colored the white baby model's face brown because he said he wanted to see another baby that looked like his sister.
Then my worst fear happened. We were at kindergarten running club and I had Corynn in a stroller. One kindergartener looked at my sweet 18-month-old, and said, "I don't like people with brown skin."
My words caught in my throat. I stuttered through an unprepared explanation about God making us all different and that's good. I turned to leave and a little girl asked, "Is that a monkey?"
I started to cry. I was angry. At a five-year-old. Then I was angry at her parents and the school and the entire largely state of Colorado.
Let me pause a second. After the Charlottesville violence, former President Barack Obama tweeted the most popular tweet in history, by quoting Nelson Mandela: "No one is born hating another person because of the color of his skin or his background or his religion…" It was retweeted 1.7 million times and liked 5.4 million times and counting. And because it is always wise to disagree with heads of state and historical icons, well, I disagree.
Humans are born, fearing the unknown, the different. Anthropologists would say it is a basic survival skill. Psychologists would say it is to preserve and protect the self. Sociologists would speak of the benefits of group membership. As we age, the word "fear" is replaced by "prejudice" and at times "hate." When children have not been exposed to people different than themselves, they will fear them and feel prejudice against them. It isn't just race. It is sexual orientation. It is lifestyle choices.
My kids are no different. The first time my William saw someone over 400lbs he shouted, "that woman is so big!" The first time my Braden saw someone with prosthetic legs he yelled, "robot, robot, robot!" These children knew no better. They had literally never seen a black toddler before and they reacted the most natural way.
Now, I ask you…how does your child react to children of another race?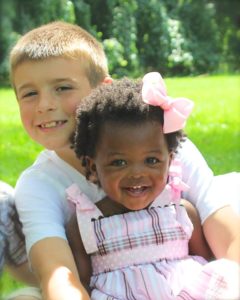 Here is the thing: I don't know these children. I don't know their parents. However, based on demographics in the area, the parents were most likely white, well-educated, dual income, upper middle class, Christian-affiliated, democrats with a high tolerance for people different than them. And yet, their children thought this way anyway!
So, is it hopeless? No. There are things we can do to love each other better, starting at home. Everyone is so concerned about what is coming out of the White House (and rightly so). But, we all need to ask the question, "how white is my house?"
Books
Prior to adopting my daughter, I thought it was good enough to have children's books that had cute animals teaching good lessons. Here are two of my favorites, by the way.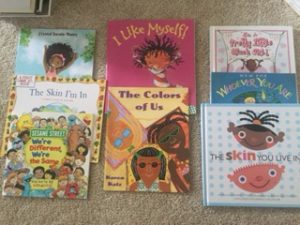 But then I realized that we had only two books with a black main character. One was the classic, Snowy Day. One we got from Dolly Parton's Imagination Library and had only read once because my kids hate baseball. We now have books that specifically focus on unity and diversity, as well as books where the main character is black. Many of these teach great lessons, such as loving yourself. Many are just normal stories and the main character just so happens to be black. Not every black character needs to be speaking/teaching about race. Sometimes they can be playing in snow, or taking a hot air balloon ride, or going to the library.
Shows
TV shows have come a long way. Thanks, to Sesame Street, there have been children of all skin colors on tv for decades, but now it is more prominent across stations. Doc McStuffins is my daughter's hero. She is smart, kind, and caring (plus her family adopted a baby which melted my adoption-loving heart!). Miss Elaina on Daniel Tiger is awesome and has a black dad and white mom, showing diverse family dynamics, plus she always wears her clothes backwards so she and my daughter are twins. Still, we need more. Get on it, Nick Jr.
Toys
Buy diverse dolls and toys. I get it. With rare exceptions, kids want to play with dolls that look like them. Therefore, Target has mostly white dolls in mostly white communities. Buy diverse toys anyway. Have them visible. Occasionally join in with your child and create play scenarios to see how your child will react.
Music
Who do you listen to? Our children need to hear music from diverse people. No joke, when Corynn was a baby, I asked my friend if I had to play Beyoncé for her to understand her culture. She said no, but I kid you not, the first time I played Halo Corynn lost her mind, she loved it. Bey's got a way, I guess. If all my children every hear me play is white, southern boys singing about taking girls out into a cornfield with a six pack, that is what they will think all music sounds exactly alike. This is just the beginning of an essential list.
Consider your daily routine. How often do your children see people of color, people of different abilities, people speaking different languages? At the store, at school, at the park, at the library, at church and at the restaurant, at the doctor's office. How often are the people of color the ones in serving roles? I stopped shopping at a store because all the cashiers were black and all the shoppers were white and I didn't want my daughter to think that's the way things are.
One last thing. It isn't enough to just NOT teach your child to hate. You must actively teach them to love, to accept, to reach out, to speak up, otherwise they will default to what is easy and what is comfortable. Sounds like us, doesn't it? Ask your children questions. What do they think about black people? People in wheelchair? Kids who have autism? Kids with learning disabilities? My guess is that their answers will surprise you.
By the way, I'm not sitting here on my high horse. Guess how many books I have with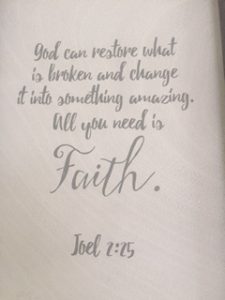 Latinos as the main characters? Guess how many shows my children watch where the main character has down syndrome? None. We still live in a mostly white suburb although we proactively seek out experiences that expand our horizons.
These small changes, these short conversations will rid your child of the fear they have towards people who are different. It will safeguard their hearts from hate. This is imperative. Your child will have a million interactions in their life and what if each of those was colored with a touch more familiarity and a touch less fear. I promise you that it will make our world better if we all do that.
Thank you for taking the time to hear me out. I welcome healthy discussion and questions if you care to engage!
Janine Rosche