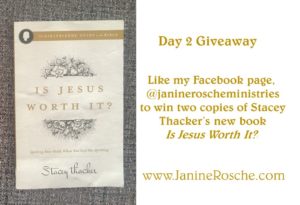 Welcome back to Day 2 of my Giveaway Week to celebrate my site's launch! In case you missed it, you may complete the tasks between now and midnight on September 6th to win any of the giveaways!
Day 1 Giveaway: $50 Amazon Gift Card
How to Win: Any day between Sept 2-Sept 6, subscribe to my newsletter by entering your email address and name to the right. Check back tomorrow for another chance to win!
Day 2 Giveaway: Two copies of Stacey Thacker's new book "Is Jesus Worth It?" To enter, just Like my Janine Rosche, Author Facebook page and tag the friend to whom you'd gift the second copy in the comments of the Day 2 Giveaway post.
Take two minutes and watch my review of Stacey's wonderful book below:
God Bless and see you tomorrow for Day 3!
Janine Rosche