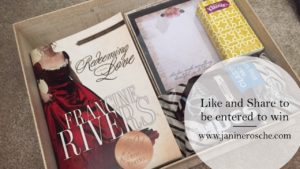 It is Day 4 of Launch Week! Today's giveaway is a gift set that includes my favorite book, Francine Rivers' classic, Redeeming Love. Like and share this facebook post to be entered to win! Remember to enter all giveaways before a winner is chose at midnight September 6th! Check back tomorrow for another one of my favorite things!
Day 1 Giveaway: $50 Amazon Gift Card
Day 2 Giveaway: Two copies of Stacey Thacker's new book "Is Jesus Worth It?"
Day 3 Giveaway: Win a 28 oz jar candle from Circle E Candles by following me on Twitter or Pinterest.
Day 4 Giveaway: A Gift set including Redeeming Love
God Bless and see you tomorrow for Day 5!
Janine Rosche