True to You by Becky Wade
My rating: 5 of 5 stars
In the first of the Bradford Sisters Series, Becky Wade weaves together family histories and tragic pasts with a sweet love story. As good-hearted Nora helps American hero John find the identity of his birth parents, they form a friendship-turned-romance that is both realistic and endearing. Complete with twists and turns, this novel will keep you engaged until the superb end. The best part is how the author peaks your interest into the lives of the other Bradford sisters, Willow and Britt. Each unique in personality, lifestyle and love interests, this series promises more swooning in the near future!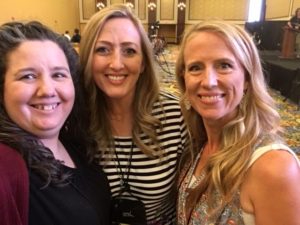 Bonus: I had the privilege of meeting Ms. Wade the same day I finished this novel at a writers conference. She was gracious and kind, answering my questions and listening to me spill all that her book had made me feel! In this picture, she allows me to be a fangirl with her and fellow author, Carol Moncado.
To hear more about new releases from Becky Wade, check out the following sites: