Sometimes you find an author that writes exactly what you want to read, with likable, believable characters for whom you cheer and with whom you hope. For me, that is Denise Hunter. I'm late to the game on appreciating  Ms. Hunter's work, but since they've made room on the bandwagon, I'm hopping on and I'm saving you a spot next to me.
Denise Hunter's latest, Blue Ridge Sunrise, had big shoes to fill. If you read my review of her three Summer Harbor novels, you know that I loved everything about those Callahan boys –sigh– and the ladies who won them over. Blue Ridge Sunrise did not disappoint.
In this novel, set in Copper Creek, Georgia, Zoe Collins returns home for the first time in five years, with a daughter, a good-for-nothing musician boyfriend, and a whole lotta regret. Once a free spirit with a fire that will make you want to dye your hair red and don a pair of cutoff jean shorts, she now is tame and beat-down. When she inherits her grandmother's peach orchard. she begins to find herself again, with help from her ex-boyfriend, Rico Suave, who conveniently manages the orchard. Okay, okay, his name is Cruz but he is every bit the good-looking, charming, kind and strong man-type that terrible 90s song sings about. Together, they discover that half-truths and lies of the past have lingered far longer, with greater consequences than anyone expected.
As with all of Ms. Hunter's books, this novel has been well-received by readers, but it isn't without its controversies. I'll discuss those below.
Let's break it down by the elements:
Romance: To what extent might this book make your heart swell to near-bursting? It is a 0-5 scale ranging from Financial Podcast (0) to Canon in D (5).
I give this one a strong 4.5. Cruz and Zoe have definite chemistry, but I found myself caring so much about Zoe's well-being and her relationship with her father, her brother, and her daughter, that my focus was split. In their moments together, the romance is sky-high though! Just listen to this line about how Cruz feels about Zoe for example: "He'd fight all her dragons, every last one of them, and she didn't even have to ask."  Are you swooning yet? I know, right! Go ahead, I give you permission: Skip the rest of my review and scroll to the bottom and order this book now.
Faith: How much of an appearance does God make in this book? Barely There (0) to God is Everywhere (5)
3–God is mentioned and full pages are devoted to the pursuit of a relationship with him, especially towards the end. However, faith did not seem to be a major factor in the main character's daily life. Maybe if faith was a bigger factor for these characters, they would not have found themselves in their current situation. Oy, I sound like SNL's Church Lady.
Blushes: To what extent might this book make your own heart race along with the character's, bite your lip to keep from stupid-smiling, or make you want to kiss your own significant other (or pillow—hey, I was single for a long time)? Cold as stone (0) to Is It Hot in Here? (5)
4-Ms. Hunter writes THE BEST kissing scenes. After reading the passion passing from one character's lips to another, you may start understanding why the Duggar family has a No Kissing Before Marriage rule. There is mention of moments of passion beyond kissing but those are not described, saving some discomfort. Speaking of….
Squirms: To what extent did this book make me uncomfortable? How many times did I need to mute the audiobook because my kids walked in, skipped past scenes, or set the book down to take a break? It is a 0-10 scale ranging from Simply Clean (0) to Simply Sickening (5).
4–Here is where some of the controversy lies. SPOILER ALERT!!!! In Christian Romance, premarital sex is a big no-no. Even if it occurs in the past. Even if it is remembered with guilt or regret. The former Young Life leader in me could give a whole bible study lesson on the benefit of waiting until marriage. Yet, the former Young Life leader in me also knows that sex before marriage is fairly common, even among believers. For some readers, this might be very off-putting. For some readers, it is a welcome admission that our beloved characters are authentic, relatable, and vulnerable to the same temptations as we are. It certainly isn't promoted or condoned. It actually leads to a good deal of complications so it is still a lesson of what-not-to-do.

There are also scenes of domestic abuse that may be triggering to some. They are carefully written, though, and they do not drag into full details.
Tears: To what extent might this book make you cry? This scale runs from Dry Eye (0) to Marley and Me (5)
2–I did not cry, however, some of Zoe's conversations, including her broken relationship with her father brought me right to the thin line between sadness and anger.
LOLs: How funny is the narrator? How witty is the dialogue? This is rated from Crickets (0) to Spit-out-my-soda funny(5)
2-Cruz and Brady (Zoe's brother) gave me laughs, especially the scene at the restaurant when Baby Sammy's diaper needs changed. Other than that, It wasn't especially funny, but it didn't try to be.
Tantrums: To what extent do I want to lecture the characters or email the author and demand they "make it right"? Scale runs from Cool and Calm (0) to Book-shaped hole in the Drywall (5)
4.5–You know that friend that makes bad decision after bad decision? After reading this book, you won't judge them so severely. I have never in my life thought "Bless her heart" or "Bless his heart" as often while reading a book. Boy, these characters needed me to be their big sister. Sure, they probably would have rolled their eyes at me and told me to keep my eyes on the peach cobbler in my own oven–is that not a saying? It should be. Let's just say that common sense does not run swift in Copper Creek. Thankfully, grace does, and it all works out just peachy in the end. See what I did there?
Suspense: How wide were my eyes? Was my jaw hanging open? How many times did I shush people around me who dared to interrupt my reading during intense scenes? Did the bathwater turn cold because I couldn't put the book down? Lulled to sleep (0) to Too Wired to Sleep (5)
4-This story is not marketed as a romantic suspense, but the suspenseful elements ramp up towards the end. My heart was definitely racing for a couple scenes there.
Overall, I loved this story and highly recommend it! I will give this story a 4.75 out of 5, but that's because Riley Callahan (Just a Kiss) wasn't in it. I know, I know. I should move on. He certainly has.  *sobs quietly, blows nose, repeats Phil 4:13*.  After all, Brady Collins is still single, right, Denise? Oh, there's another book coming out May 2018? Honeysuckle Dreams? *Reads synopsis, sobs again.*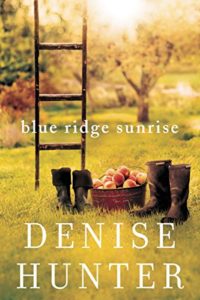 Find this book on Amazon here
Visit Denise Hunter's website here
Follow Denise Hunter on Facebook here
Follow Denise Hunter on Twitter here
Shelf this book on Goodreads 
If you want to read more reviews, be automatically entered to win my future giveaways and get exclusive content, please subscribe to my newsletter. No spam, just prizes!