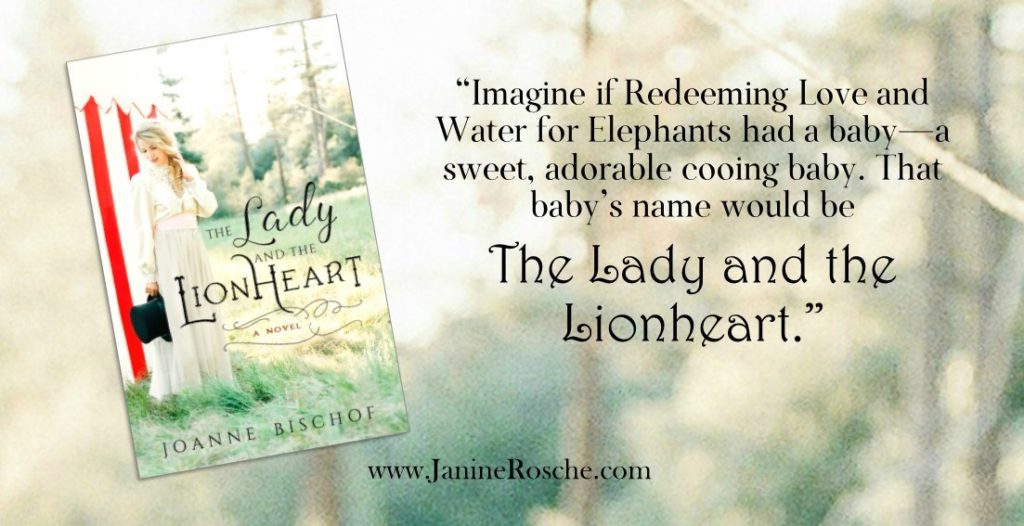 Subscribe to my quarterly newsletter below to be entered to win a copy of Joanne Bischof's The Lady and the Lionheart!
I once sat in the front row of a traveling circus. It was magical. The tightrope motorcyclist seemed to balance above my head, eliciting squeals of delight from my children. The breeze from the swinging trapeze artists cooled my skin in the mid-July heat. The clowns teased us with their humor. Then the tigers came out. We were in awe, until the big cats began marking their territory. I shielded my children behind a blanket to avoid being, um, sprayed, and in the most disgusting way. We survived, and cheered for the final act—the elephants. That is, until the elephant's backside was five feet directly above our heads. Suddenly, having front row seats to the circus felt more like a nightmare than a dream!
Needless to say, I was a bit hesitant to get another inside look at the circus, but many of my friends insisted that I read Joanne Bischof's The Lady and the Lionheart, so I dove in. I'm so glad I did! Imagine if Redeeming Love and Water for Elephants had a baby—a sweet, adorable cooing baby. That baby's name would be The Lady and the Lionheart.
Set in 1890s Virginia, this story begins with Charlie, a handsome liontamer from the circus, bringing his critically ill infant to a hospital for help. A nurse, Ella, hiding from the shame and brokenness in her past, stops at nothing to help this baby girl. Thus, begins the most delightful of love stories, woven around the sights of the Victorian-era traveling circus, both wondrous and horrendous. Full of sacrificial acts and unconditional love, this novel will leave your heart two sizes larger than when you started. Don't just take my word for it, though. This novel just won the Christy Award for Historical Fiction, due to its brilliance.
Let's break it down by the elements:
Romance: To what extent might this book make your heart swell to near-bursting? It is a 0-5 scale ranging from Financial Podcast (0) to Canon in D (5).
I give this a 5, without question. When I finished, I felt like skipping around my yard while flower petals rained down from heaven.
Faith: How much of an appearance does God make in this book? Barely There (0) to God is Everywhere (5)
4– Faith is expertly tied in to the main themes and actions of the characters without being overtly written on every page. Hymns are also perfectly placed in key plot moments to highlight Charlie's faith. I'll never hear Rock of Ages again without remembering this story.
Blushes: To what extent might this book make your own heart race along with the character's, bite your lip to keep from stupid-smiling, or make you want to kiss your own significant other (or pillow—hey, I was single for a long time)? Cold as stone (0) to Is It Hot in Here? (5)
2– The love story in this book is pure and clean, so I wouldn't say that I blushed too much. That rooftop scene though! I swooned all three times I read that part ?
Squirms: To what extent did this book make me uncomfortable? How many times did I need to mute the audiobook because my kids walked in, skipped past scenes, or set the book down to take a break? It is a 0-10 scale ranging from Simply Clean (0) to Simply Sickening (5).
3—Flashbacks to the past and Charlie's present circumstances may have a triggering effect. However, it is obvious that Ms. Bischof cares for her readers, as the scenes are thoughtfully composed and lead to marvelous restoration.
Tears: To what extent might this book make you cry? This scale runs from Dry Eye (0) to Marley and Me (5)
3—See above. Those scenes drew tears, but so did the ending, in a completely different way!
LOLs: How funny is the narrator? How witty is the dialogue? This is rated from Crickets (0) to Spit-out-my-soda funny(5)
1—This story wasn't meant to be especially funny, yet I still found amusement in some of the scenes, especially when the circus folk mingled.
Tantrums: To what extent do I want to lecture the characters or email the author and demand they "make it right"? Scale runs from Cool and Calm (0) to Book-shaped hole in the Drywall (5)
1—Only once did I yell "Stop it!!" out loud, but it wasn't to a main character, fortunately.
Suspense: How wide were my eyes? Was my jaw hanging open? How many times did I shush people around me who dared to interrupt my reading during intense scenes? Did the bathwater turn cold because I couldn't put the book down? Lulled to sleep (0) to Too Wired to Sleep (5)
3—This story had a lovely pace with just enough suspense, wonder, and bewilderment to keep you turning pages. I found myself urging my eyes to read even fast as I neared the end!
Overall, I'm glad I overcame my fear of the circus long enough to read this book! It was far more pleasant than my last circus experience and the liontamer was far more charming! I rate this story a 5 out of 5 and have been recommending it to everyone I meet. It's a home run in the Inspirational Historical Fiction game!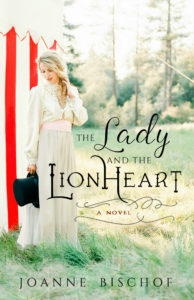 Visit Joanne Bischof's website here
Follow Joanne Bischof on Facebook here
Follow Joanne Bischof on Twitter here
Don't forget to subscribe to my newsletter for your chance to win a free copy!