Subscribe to my quarterly newsletter below to be entered to win a copy of Cara Putman's Imperfect Justice. Share this post on Facebook to try to win a SIGNED copy!
Christmastime in NYC is magical and there are hundreds of things to do and see! And yet, I chose to sit on a bench in Central Park in 30-degree weather and read the last 80 pages of Cara Putman's legal suspense novel, Imperfect Justice, because it is that good!!!
Rational thinking demanded, "Leave it in Ohio (or at least your suitcase) and enjoy the sights!"
"No, I only have 80 pages left," I argued.
"Foolish girl, then go inside somewhere."
"I don't want any interruptions or noise. Central Park, it is." I wiggled a bit to warm the cold wood slats of the bench which froze my backside.
"At least grab a coffee."
I shook my head. "No time. Emilie and Reid can't solve this puzzle until I open the book again. A little girl's life is at risk. Plus, there is bound to be a kiss in here somewhere. That will warm me up."
"Geesh, then put your mittens on. The nerves in your fingers are bombarding me with frostbite signals."
"Mittens won't let me turn the pages fast enough. Now, hush, or I will silence you for the rest of this New York City trip, just like I silenced the part of the brain that voices wise financial decision-making while on vacation."
So I sat until I finished it, smiling like a fool as chic and chill New Yorkers strolled by. I closed the book with my numb hands, a sense of complete satisfaction, and a desire to tell you all about it!
Imperfect Justice is the second novel in the Hidden Justice series by Cara Putman. Although it can be read as a standalone as well, you won't want to. You will want to read the others (Beyond Justice and Delayed Justice, out in 2018). These thrillers deftly go behind the headlines of news stories that break our heart and leave us asking why.
Emilie is a lawyer and advocate for domestic abuse victims. When a video emerges of her latest client, Kaylene, bleeding to death, gun in hand, near her two shot daughters, local law enforcement and the general public are quick to lay blame on the mother. Emilie, however, believes otherwise. She pairs up with Kaylene's brother, Reid, who is handsome, single, wealthy, intelligent, charming, humorous, caring, compassionate, protective, dreamy—oh sorry, where was I? Right. Emilie and Reid pair up to find the truth.
Complicating matters is the obsessive stalker who, throughout the book, peppers Emilie with frightening messages, unwelcome gifts, and serious someone-is-watching-from-the-shadows moments.
Let's break it down by the elements:
Romance: To what extent might this book make your heart swell to near-bursting? It is a 0-5 scale ranging from Financial Podcast (0) to Canon in D (5).
3.5– Without a romance, this book still would have held my interest (a rare feat!!). But the romance between Emilie and Reid is rich and lovely on the pages where it forces its way to the surface. It was enough to make me near-squeal in the end (I didn't squeal though. I didn't want to look completely crazy!)
Faith: How much of an appearance does God make in this book? Barely There (0) to God is Everywhere (5)
4—Faith is a big part of each characters' lives, and it is admirable how they turn to prayer to help them, but it is not the main aspect of the book.
Blushes: To what extent might this book make your own heart race along with the character's, bite your lip to keep from stupid-smiling, or make you want to kiss your own significant other (or pillow—hey, I was single for a long time)? Cold as stone (0) to Is It Hot in Here? (5)
2.5– I would have loved for there to be more blush-worthy moments in this story, but what can I say? Emilie and Reid have more self-control than I do. Of course, like I said, I did still stupid smile, quite a bit, just with the cute, flirty dialogue between them.
Squirms: To what extent did this book make me uncomfortable? How many times did I need to mute the audiobook because my kids walked in, skipped past scenes, or set the book down to take a break? It is a 0-10 scale ranging from Simply Clean (0) to Simply Sickening (5).
3.5– The book details domestic abuse. It is gritty. It is heart-wrenching, knowing what some adults and children must endure at the hands of others. It is still carefully written, a credit to Ms. Putman. She clearly cares about her readers, in that she hopes to bring light to sensitive issues, but does not seek to trigger embedded trauma or play up violence for the sake of entertainment.
Tears: To what extent might this book make you cry? This scale runs from Dry Eye (0) to Marley and Me (5)
3— It is impossible to read this and not be affected by Kaylene's story. She is Emilie's client, and Reid's sister. The worst part for me was reading how alone she (and other domestic abuse victims) must feel. I'm glad Ms. Putman cares enough to bring up tough topics in hopes of change.
LOLs: How funny is the narrator? How witty is the dialogue? This is rated from Crickets (0) to Spit-out-my-soda funny(5)
3– Reid is pretty funny, in spite of the trauma he is facing after the death of his sister. The dialogue is quick and witty and I want to see a buddy comedy with him and his friend, Brandon. Might I suggest that as a fourth book, Cara? Maybe call it "Traveling Justice"?
Tantrums: To what extent do I want to lecture the characters or email the author and demand they "make it right"? Scale runs from Cool and Calm (0) to Book-shaped hole in the Drywall (5)
2–. Emilie is smart as a whip and way more logical than I am—until she pulls an entirely dumb, Janine-esque move near the end of the book. I don't want to give anything away, so I'll just say that when you have a perfectly lovable puppy in your arms, don't let him go and grab hold of a scorpion. Does that make sense?
Suspense: How wide were my eyes? Was my jaw hanging open? How many times did I shush people around me who dared to interrupt my reading during intense scenes? Did the bathwater turn cold because I couldn't put the book down? Lulled to sleep (0) to Too Wired to Sleep (5)
5– Danger, legal suspense, romantic suspense, chill-inducing characters, this book has it all. I risked losing fingers and getting mugged to read this book, if that is any indication of how much it sucks you in!
Overall, I would give this book a 5 out of 5. It is smart and gritty. Yet, even in the darkest spots, there is hope, knowing that some will never stop fighting for what is right. I highly recommend Imperfect Justice. I am normally not a fan of legal books, simply because the jargon loses me. Cara doesn't overwhelm with jargon and ensures that the average reader understands the necessary motions and laws. It will keep you on the edge of your seat, for sure, and squeeze your heart. And when it is all said and done, you will likely look up the nearest domestic abuse shelter and give a donation. I hope you do!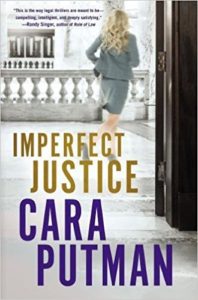 Visit Cara Putman's website here
Follow Cara Putman on Facebook here
Follow Cara Putman on Twitter here
Shelf Imperfect Justice on Goodreads
Don't forget to subscribe to my newsletter for your chance to win a free copy!
**I received an advanced copy of Imperfect Justice in exchange for my honest review.