Media Kit
Long Bio
Although I reside in Ohio with my husband, four children, and two spoiled Labrador retrievers, I have lived and traveled all over the United States. Since each of these lovely places has stolen a piece of my heart, I write to revisit them.
My stories are set in rustic towns, along rivers and between mountains where love is sweet, faith is genuine, and ever afters are happy. I promise you'll always find inspiring characters, moving tales of redemption, and riveting romance.
In addition to writing novels, I teach university courses in Human Development and Family Relations, and I am certified in Family Life Education. This education and experience has led to the production of the Love | Wander | Read Journal, a quarterly digital magazine that provides inspiration for a life well-lived.
Short Bio
Prone to wander, Janine Rosche finds as much comfort on the open road as she does at home. This longing to chase adventure, behold splendor, and experience redemption is woven into her novels. When she isn't writing or traveling, she teaches family life education courses to college students, takes too many pictures of her sleeping dogs, and embarrasses her four children and husband with boy band serenades.
With Every Memory
Publisher: Revell | Baker Publishing
Buy Link: bakerbookhouse.com/products/492113
Release Date: June 6, 2023
Summary:
Is the Life She Can't Remember One She'd Rather Forget?
One year after her family was in a tragic car accident that killed her teenage son, Lori Mendenhall returns home with a traumatic brain injury that has stolen the last eight years of memories from her. She is shocked to find that the life she was leading before the accident is unrecognizable. Her once-loving husband, Michael, is a distant workaholic she isn't sure she can trust and her once-bubbly daughter, Avery, has spent the last year hidden away in her room.
For Avery, life stopped when she lost her twin. Now, if she wants to graduate high school, she'll have to accept help from Xander Dixon, her brother's best friend and the boy who relentlessly teased her for years. And if Lori wants to reconnect with her husband, she'll have to grapple with information her brain is trying to keep secret. With every memory that returns, she can't help but wonder if the life she can't remember is one she'd rather forget.
Hashtags: #WithEveryMemory #ReachforaRoschebook  #LoveWanderRead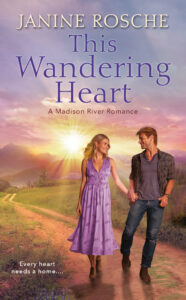 This Wandering Heart
Publisher: Berkley | Penguin Random House
Buy Link:  https://www.penguinrandomhouse.com/books/622419/this-wandering-heart-by-janine-rosche/
Release Date: May 5, 2020
Summary:
In the first entry in the Madison River Romance series, Keira Knudsen gets the traveling opportunity of a lifetime, but when she reunites with her first love, Robbie, she learns that even a wandering heart needs a home….
No one in the quaint town of West Yellowstone, Montana, knows that unassuming geography teacher Keira Knudsen moonlights as sensational travel blogger Kat Wanderfull. No one, that is, except for her first love, Robbie Matthews, who has just discovered the woman he is falling for online is the same one that broke his heart five years ago.
But Robbie has another problem: the mother of his daughter, Anabelle, has resurfaced after a three-year absence determined to rip Anabelle away from him. Robbie needs a steady paycheck for a chance at custody, and now, on the eve of a grand adventure that could give Keira a chance to flee her old, troubled life once and for all, she is in need of assistance.
With so much broken trust between them, Keira and Robbie must keep an arms-length away to make this partnership work. But the more time they spend together, exploring majestic places and sharing new experiences, the closer they get–until their secrets and dreams threaten to cost them everything.
Hashtags: #ThisWanderingHeart #ReachforaRoschebook #MadisonRiverRomance #RobbieandKeira #LoveWanderRead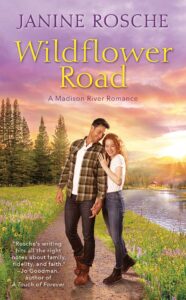 Wildflower Road
Publisher: Berkley | Penguin Random House
Buy Link:  https://www.penguinrandomhouse.com/books/622420/wildflower-road-by-janine-rosche/9780593100523/
Release Date: October 6, 2020
Summary:
A young widow is tempted to love again after her heartbreaking loss in this new Madison River Romance. 
After her husband's tragic death, Ryann Marie Ashcroft's only remaining dream is to save her family's struggling mountain resort. And the last person she wants to rely on is a brooding stranger with secrets of his own.
Nicknamed America's rock-and-roll pastor, Shane Olson arrives in Montana after a viral video destroys his marriage, his ministry, and his reputation. Working side by side on the banks of the Madison River, he and Ryann get a second chance at love. But not everyone wants to see their happily ever after.
Hashtags: #WildflowerRoad #ReachforaRoschebook #MadisonRiverRomance #ShaneandRyann #LoveWanderRead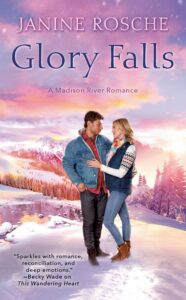 Glory Falls
Publisher: Berkley | Penguin Random House
Buy Link:  https://www.penguinrandomhouse.com/books/622421/glory-falls-by-janine-rosche/9780593100547/
Release Date: January 5, 2021
Summary:
Two people scarred by past trauma have a chance to write a new chapter in their lives, overcome loss, and find love in the third entry in the Madison River Romance series.
Screenwriter Cecilia "Blue" Walker is victim to life's worst plot twists. Having lost her daughter to the depths of the Madison River and her husband to the arms of another woman, she finds herself yearning for something to restore her brittle faith and once-vibrant career.
Hope arrives in the form of her childhood friend, Thomas Beck, a firefighter with a legacy of larger-than-life rescues who doesn't see himself as a hero. Haunted by his past, Thomas only agrees to a movie adaptation of his story if Blue, his longtime crush, is the screenwriter.
However, as Blue and Thomas work together to bring his heroism to the big screen, the glitz and glamour of Hollywood threaten to shed light on secrets that could tear their fragile relationship and their lives apart.
Hashtags: #GloryFalls #ReachforaRoschebook #MadisonRiverRomance #BeckandBlue #LoveWanderRead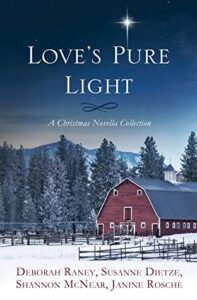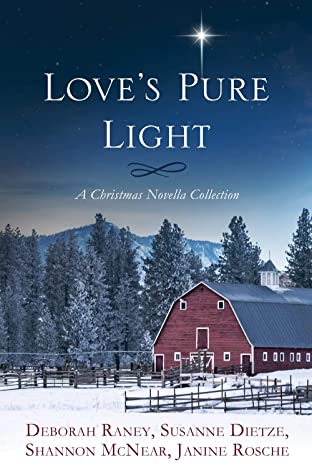 Love's Pure Light
Publisher: Barbour
Buy Link:  Coming Soon
Release Date: September 1, 2020
Summary:
Be transported to unique time periods as you follow a treasured family nativity set through four generations of the Shepherd family.
 
While Shepherds Watch Are Keeping by Susanne Dietze
Massachusetts, 1899
This Christmas, Pastor Seth Shepherd has little to offer his flock of congregants in their time of need until Jessalyn Grant, a mysterious newcomer, comes to his aid.
 
The Wise Guy and the Star by Shannon McNear
Charleston, South Carolina, to Kansas City, Missouri, 1919
While journeying by train, Stella Shepherd befriends war veteran Nat Wise. She helps him find renewed faith in God, but could he also be the answer to the wanderings of her own heart?
 
On Angel Wings by Janine Rosche
Kansas City, Missouri, 1945
Elodie Wise plans a fundraising ball with the help of her friend Benjamin Gabriel. But can she look past the swanky Hollywood headliner to see the man who truly loves her?
 
Making Room at the Inn by Deborah Raney
Cape Girardeau, Missouri, Present Day
Benjie Gabriel thinks the chef's position she's just taken at an award-winning bed and breakfast is temporary—just a stepping stone. The B&B's owner, Trevor Keye, thinks the same. Will five months be long enough for them to figure out that what they've each been longing for, praying for, is right beneath their noses? 
Hashtags: #LovesPureLight #ReachforaRoschebook #BenjaminandElodie #OnAngelWings #LoveWanderRead
Endorsements
"Heartrending and redemptive, With Every Memory is a poignant story that follows the aftermath of loss in a hurting family and the guiding hope that leads them home again."
Nicole Deese, award-winning author of The Words We Lost
"With Every Memory is a memorable story of damaged, imperfect people trying to rise above the rubble of tremendous tragedy. Raw and gritty, this is my favorite type of novel. It is highly affecting, and I nearly read through it in one sitting. I'm still sitting here thinking about it."
T.I. Lowe, bestselling author of Indigo Isle
"At times messy, emotional, and altogether tender, With Every Memory is a story that will feel familiar to readers, a story that feels entirely true. It's also a story of forgiveness, resilience, and overcoming. This is a novel you don't want to miss."
-Susie Finkbeiner, author of The All-American
"Rosche's latest novel offers a compelling look at a woman who, after losing her memory, feels like a stranger in her own family. The unraveling of her past takes the reader on a journey that will have them flipping pages long into the night. With Every Memory is a moving tale of hope and healing."
-Denise Hunter, bestselling author of the Riverbend Romance series
"Memories are a slippery thing, especially when you have a traumatic brain injury. Even knowing her memory gap has swallowed years of her life, Lori Mendenhall isn't prepared for how lackluster her life is compared to the vibrant one she remembers. In a powerful family story about awakening and holding on to who we love, Rosche tackles the question, How would you live your life differently. if you could start over?"
-Janyre Tromp, award-winning author of Shadows in th Mind's Eye
"THIS WANDERING HEART is a heartwarming novel that embraces all the wondrous elements of romance: love to last a lifetime, family values, loyalty, forgiveness, and second chances. Janine Rosche has crafted an amazing book that will remain in your memory long after you turn the last page."
—Catherine Anderson, New York Times bestselling author of Huckleberry Lake
"As the story unfolds across the pages of This Wandering Heart, the characters pulled me deeply into a romance I wanted to happen even as the obstacles seemed insurmountable. This book is perfect for readers who love romances filled with heart and characters you can't quit rooting for. And traveling vicariously through the heroine? An added bonus in an already heartwarming book."
—Cara Putman, award-winning, bestselling author of Delayed Justice and Shadowed by Grace
"In this debut novel, high school sweethearts are reunited in a tender second-chance story that takes the reader on a journey of self-discovery. Up-and-coming author Janine Rosche deftly uses a dash of humor to balance out weightier issues in This Wandering Heart. Romance readers are sure to fall in love with this adventurous heroine and swoon-worthy hero!"
—Denise Hunter, bestselling author of the Bluebell Inn series
"Warm and charming, with a uniquely vulnerable and affecting hero, This Wandering Heart moves with insight and grace. Janine Rosche's writing hits all the right notes about family, fidelity, and faith."
—Jo Goodman, USA Today bestselling author of A Touch of Forever
"Janine Rosche's debut novel sparkles with romance, reconciliation, and deep emotions. I thoroughly enjoyed traveling to beautiful settings, exploring the ties that bind us to our family, and experiencing the hero and heroine's second chance at love. . . . A delightful beginning for a talented author!"
—Becky Wade, Christy Award–winning author of Sweet on You
"A tender look at how the wounds of the past impact the present. It delves into spiritual aspects of forgiveness, second chances, and refocusing our priorities on a God-centered view instead of a fear-centered view. The dialogue is fun, the growth is sweet, and the hero . . . well, he's just absolutely wonderful. This story is reminiscent of Becky Wade's My Stubborn Heart, with a heroine who needs a lot of help, hope, and love to get her sights turned in the right direction. What a fun story."
—Pepper Basham, author of the Mitchell's Crossroads series and My Heart Belongs in the Blue Ridge
"With her emotionally rewarding debut, Janine Rosche sets herself apart as one to watch. Lush imagery, relatable characters, and a spot-on balance of humor and heartache come together to create a romance that speaks to the wanderer in us all—and the part of us that wants nothing more than a place to call home. This Wandering Heart is a must-read for anyone who believes love is the greatest adventure of all. Highly recommended!"
—Bethany Turner, award-winning author of Wooing Cadie McCaffrey and Hadley Beckett's Next Dish
"This Wandering Heart is a charming romance; a classic tale of love lost and found, told with warmth, humor and energy. Readers will cheer for these engaging characters, and leave this book believing in happy endings. And, eager for more from this talented new author."
—Katherine Spencer, New York Times bestselling author of Thomas Kinkade's Cape Light: When Christmas Comes
"Janine Rosche is a fresh new voice in the world of contemporary romance and her debut is full of heart and soul! With an intriguing premise and relatable characters, This Wandering Heart is a delightful story of secrets and second chances."
—Melissa Tagg, Carol Award–winning author of the Walker Family series and Now and Then and Always