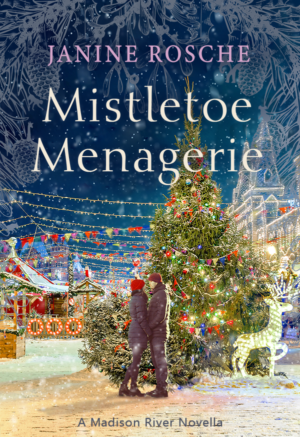 Mistletoe Menagerie
A Madison River Romance Prequel
Is one whimsical night enough to turn sorrow into a lifetime of hope?
On Christmas Eve, Sage Matthews races through the city zoo, desperate to honor the tradition she shared with her deceased mother. Yet a simple train ride beneath twinkling lights isn't enough to quell the ache in her heart for the kind of Christmas she used to know. As she grieves, the last person she expects to see at the helm of the zoo festivities is her childhood crush.
Growing up, Luke Tennison never had any Christmas traditions, let alone a family to share them with. Now, as the assistant general director at the zoo and a widower, he counts down the days until the strings of lights dim and the tinsel disappears. When he approves a last-minute request for the zoo to host children from a foster home on Christmas morning, he asks Sage for help, in hopes it may bring a smile not only to the kids, but to the once-joyful girl he used to know.
Together Sage and Luke spend the midnight hours wandering through the sleeping zoo and preparing a magical and merry menagerie that the children will never forget. But with heavy snowfall threatening to close the roads, they'll need a miracle, or all their efforts will be for naught.